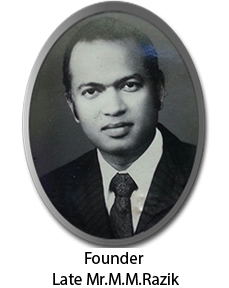 Abundant with an eventfully rich and intense past, the history of how CEIAL came to be is one that is deeply ingrained with compassion and morale from its beloved founder, Mr. M. M. Razik who was originally a copra trader by profession as he initially ventured out into the corporate arena under his trademark company 'Taj Trading Co.' all the way back in 1965.
During these early and very much humble beginnings, he was able to work amidst a limited scope as export operations were under constant curtailing and thereby took to opportunistically cater to the British Ceylon Corporation (BCC) which was a dominating market player for a wide array of consumer products at that time. Supplying coconut oil to the BCC and a narrower spectrum of the local market upon running and maintaining several leased oil mills, Mr. M. M. Razik's consistent level of effort and perseverance gained him meritable positions as a president and director of the Sri Lanka Oil Millers Association and the Coconut Research Institute of Sri Lanka (CRI) respectively. Also, as he was great at multitasking and had an ingenious knack for being talented in several other traits, he was also a gemstone trader who possessed hands-on experience with Sri Lankan sapphires side by side.
As the aspect of export operations on a global scale were conveniently liberalized by 1979, CEIAL was hence born, and Mr. Razik was also now officially the owner of a number of oil mills that were situated in the Peliyagoda area, operating under the name of 'Jaleel Mills'. The next few years presented great breakthroughs as exports of coconut oil in bulk flourished, mainly to Europe and the United States. With incoming orders bountifully increasing, the organization chartered a number of vessels in order to conveniently facilitate shipments. What's more, CEIAL was exceptionally successful in dominating the market sector of coconut oil in Bangladesh with its exclusive 'Khajuri Brand' coconut oil, which then grew to become the most prominent competitor to the otherwise monopolistic BCC! As assignments grew further, more mills were brought under ownership and the business operations of CEIAL further expanded into a corporation that featured timely and efficacious work ethics, in conjunction to the finest of coconut oriented commodities. A desiccated coconut mill was also one of them (mill no. 140) that also produced the same purely for export on an international level.
With the lapse of time, several globally recognized certifications that ensure optimum quality and satisfaction were also obtained, such as ISO: 22000, USDA Organic, EU, JAS and the Control Union accreditations. An array of other agro products such as spices, Coconut fibre and allied products were also introduced by future generations who collaborated with CEIAL's currently trending business functions, thereby presenting a more diversified range of export quality products for customers to choose from.